This section doesn't currently include any content. Add content to this section using the sidebar.
What Is Ghee?
Ghee is like butter - but better! Ghee is revered as one of the most precious oils in Ayurveda. It is made by cooking and filtering butter, making it a lactose-free, shelf-stable butter oil that is good for digestion and metabolism. Ghee is believed to enhance one's Ojas, or "life energy".
Ghee is rich in CLA & butyric acid which helps you absorb the nutrients in your food. With a high smoke point of 250℃ / 482℉, this healthy, organic and delicious Ghee is perfect for cooking.
Why Ghee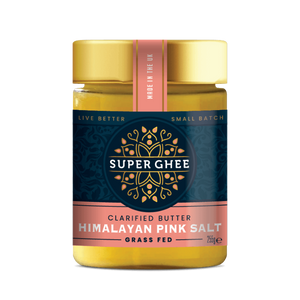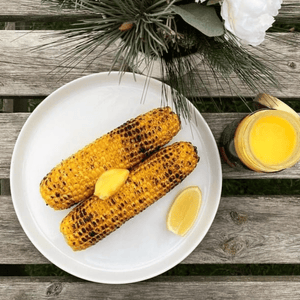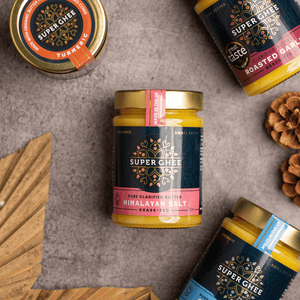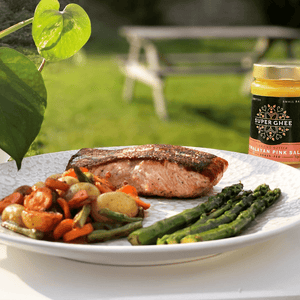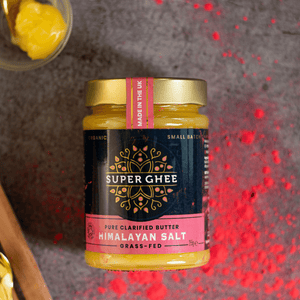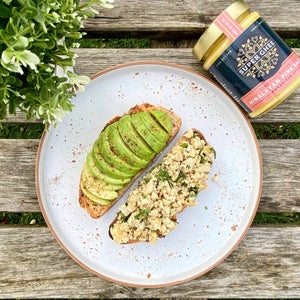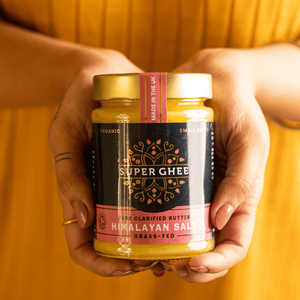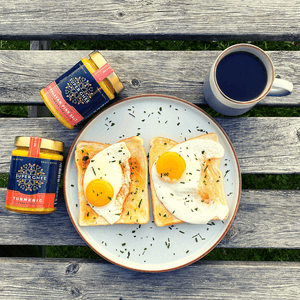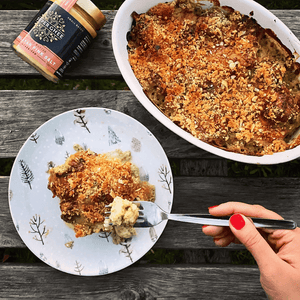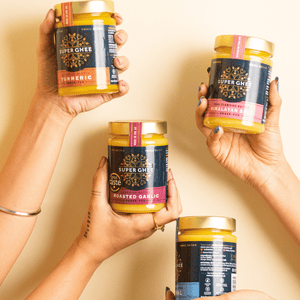 Spreadable, Cookable, Healthy Ghee with a Dash of Real Himalayan Pink Salt The perfect swap from your regular salted butter;...
Learn more
Absolutely delicious ghee. Super Ghee's turmeric ghee, which I use to fry eggs that look like they have been touched by Midas.
Ravinder Bhogal - JIKONI chef & Food writer
Best ghee I have come across. Its delicious, can't recommend it enough.
Olia Hercules - Chef & Author
I ordered the Original and Turmeric Ghee from Super Ghee. Both Ghees taste fantastic. After only ever trying mass produced Ghee before I was surprised at how natural and delicate these tasted (and I'm assuming this is how it should actually taste). Even the Turmeric one tasted really good, which I was a bit sceptical about when I first ordered it. I have a tea spoon in a glass of warm milk every night before bed and couldn't be happier with the taste. Well done Super Ghee, top product.
JM
Gorgeous super ghee. Very quick delivery, then I cooked with it. Wow, it's gorgeous, no unpleasant smell or taste like with cheap supermarket ghee. Then I put it in my coffee. Double wow !!! It tasted amazing and I banged out an almost 2 hour leg workout and was still buzzing, honestly can't rate it highly enough will definitely buy it again.
Chloe Knott
Delicious ghee. Very well presented but the taste is the main thing. I like the emphasis on ethical production of ghee - more of this would give confidence to the customer. I liked the handwritten note which shows a personal touch. Will be returning to purchase more in due course.
James Biddulph
Heavenly Turmeric Ghee Having only used regular Ghee for internal use, I was recommended by an Ayurvedic Doctor to try a tspn of Turmeric Ghee first thing in the morning chased by raw ginger in hot water. I haven't looked back. The quality of this product is first class. The texture, smooth and creamy, simply melts in the mouth and the taste is out of this world. Ready to re-order. Highly recommend.
Kathryn Varley